Wheelchair and scooter lifts for your vehicle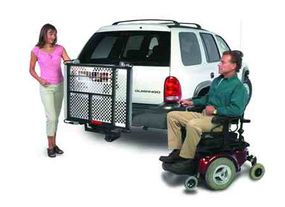 American Home Elevator & Lift sells vehicle lifts for wheelchairs, electric scooters, and power chairs. With applications to accommodate a number of different needs, our durable, safe, and flexible lifts are designed to enhance the lives of those challenged by limited mobility.
For added convenience, American Home Elevator now offers a full line of interior and exterior mounted wheelchair and scooter lifts that may not require a lowered floor van conversion. These reliable, powerful lifts easily allow you to take your scooter or wheelchair with you wherever you go. To additionally enhance your transportation experience, American Home Elevator keeps up with the latest innovations, offering features like a wireless key chain remote for effortless loading and unloading, heavy lifting capacity for worry-free operation, and designer covers to complement your vehicle's interior.
Whatever style you're looking for, American Home Elevator & Lift has the lift and accessories to meet your mobility needs. ​
Which lift will work with my vehicle and my scooter or wheelchair?
Call our expert staff and tell us your vehicle make, model, and year, and the scooter or power wheelchair you plan to lift. We can tell you if the combination will work.